About
---
Juice Rap News: the internet nation's on-beat musical, independent current-affairs programme, responsible for turning bollocks-news into socio-poetical analyses which everyone can relate to and understand – written & created by Giordano Nanni & Hugo Farrant in a backyard home-studio in suburban Melbourne, Australia – on Wurundjeri land.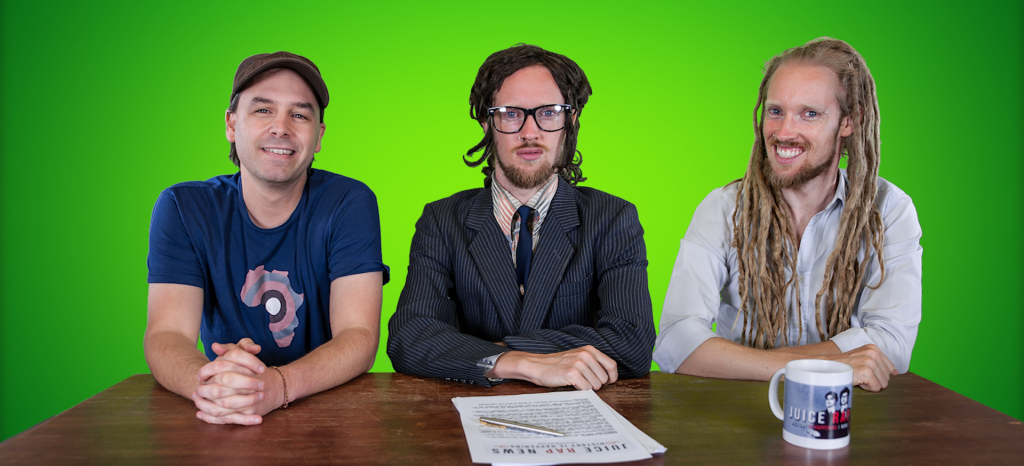 Photo by Kahlia Litzow
Hugo Farrant is Juice Rap News's lyricist and fills the role of the amiable Juice Rap News anchorman, Robert Foster – as well as many of the guests who appear on the show. Hailing from Branksome in the UK, Hugo is a prolific rhymer and orator, MC and spoken-word poet who regularly graces the stages and festivals of Melbourne. Having spent 8+ years rhyming and rapping, he now co-rhymes/writes Juice Rap News. 
Giordano Nanni is Juice Rap News's writer & editor (occasionally, supporting actor), and is responsible for the critiques and philosophies explored by Robert Foster, and many of the other characters on the show. With a background in history, music and media, Giordano is the instigator of a number of projects spanning theatre, print and the internets – including ~TheJuiceMedia, which he established in 2008.
The collaboration of mind and body between Hugo and Giordano is embodied in the character of Robert Foster, Juice Rap News's affable anchorman, whose retro outfits and biting critiques of current affairs have earned him respect in the whimsical world of news satire. Since their first broadcast in October 2009, Giordano and Hugo's collaboration has given Juice Rap News its unique flavour, bringing together their passions for rap, history, satire, journalism… and scrambled eggs.
••••••••••••••••••••••••••••••••••••••• The Juice Rap News Team •••••••••••••••••••••••••••••••••••••••
Zoe Tame is Juice Rap News's in-house graphic designer: a black-belt in Photoshop, she creates all the images and backgrounds, ensuring that all of Robert's guests feel right at home – and is also responsible for the awesomeness that is ~TheJuiceMedia website. Hailing from Australia's West, Zoe is a digital-media ninja, philosopher, and design gun for hire. Check out her site here!
Jonas Schweizer, aka "KookyBone", is one of our awesome international collaborators. Though we've never met him face to face he's been collaborating with us remotely, thanks to the internets, and is responsible for most of the animations and effects which you see in Rap News. Based in Germany, he's been film-making, animating and compositing stuff for about ten years. Here's a little sneak preview of his other work.
Adrian Sergovich is responsible for infusing our broadcasts with pure orchestral awesomeness. Adrian's talents as a composer are currently being violently exploited by the advertising industry, but we dream of hiring him full time once we have a decent budget. Adrian regularly contributes bespoke orchestrations for Juice Rap News, notably George Orwell's haunting theme in episode 15. Website coming soon; prefers his eggs poached.
Jonathan Dreyfus is one of Juice Rap News's musical magi, specialising in the arrangements and performance of our parody songs, such as the Australia Day & Stray Alien ballads. Based in Melbourne, Jonathan finds employ predominately in the much-loved field of advertising, and his music is regularly muted during commercial breaks on Australian tv and abroad. Examples of his less cuntroversial work can be found here.
More of the awesome peeps who regularly contribute to our episodes:
Koolfy from Nurpa.be in France who creates the sync'd English captions for all our episodes
Zoë Umlaut & Ellen Burbidge who have regularly appeared in supporting-roles
Rosie Dunlop who does our make-up effects
Zoë Umlaut

&

Gilles Gundermann

who source and/or construct our props

Lucy Cahill who does many of our female voice-overs and assists with production
Ming, who lends a hand with voice-overs and vocal effects
Our regular translators: Julie Chatagnon, Euclides, Jonas Maebe, Tamara, Marjan, Vojta and Lery, Jonathan… and many others
And for ongoing support and comradeship: Asher Wolf, The Kindle Project, the WikiLeaks crew, Ben Erwin, Damian Tapley, Eph Jos, Caitlin, Dave Abbott, Nick & Trav, Tundra Punks, and Franklin Lopez of Submedia
Others still have contributed over the years as extras, translators, assistants, advisors or facilitators – and they too have helped make Juice Rap News what it is.

Photo courtesy of ioerror