Thank you for your interest in this project. We will endeavour to create new episodes as long as we can. All donations help us to remain independent, and go towards the costs of creating new episodes: eg. equipment, costumes, wigs, and Robert's shampoo. We appreciate your support.
At the moment we can accept donations via the following methods: PayPal, BitCoin, Flattr and Bank Transfer.
Please send Bitcoins to this address
SPECIAL THANKS:
We are particularly grateful to the awesome financial support received from The Kindle Project LLC which awarded us one of its Makers Muse Awards in 2013.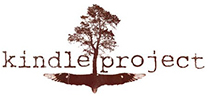 In these times of change, our social and political structures, environmental practices, relationships, and worldviews are being challenged to evolve. Based in Santa Fe, New Mexico, Kindle Project was founded to cultivate possibilities and support people and projects addressing a broad range of issues and avenues of change, including: conflict transformation, education, environmental and social justice, the arts, food and seed sovereignty, public policy, civil disobedience, film and other media.